Powerful Variants of Nokia 2.1, Nokia 5.1 and Nokia 3.1 start sale in India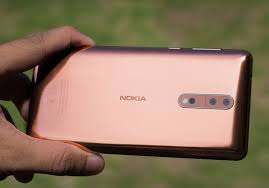 HMD Global has launched Nokia 2.1, Nokia 3.1 and Nokia 5.1 sometime in India. Sales of Nokia 2.1, Nokia 3.1 (3GB / 32GB) and Nokia 5.1 have begun in India. All three smartphones are available for sale on all mobile retailers, Paytm Mall and Nokia.com. Let us know that ICICI Bank will get 5 percent cash back on payment by credit or debit card. Nokia's three handsets are also known as Nokia 2 (2018), Nokia 3 (2018), and Nokia 5 (2018). It is worth noting that 2 GB / 16GB variants of Nokia 3.1 Plus have already been launched in India. Nokia 3.1 smartphone is an upgraded version of Nokia 3 launched in India in June last year. Nokia 2.1 is the Android 8.1 oreo (Go Edition) phone. Let's now give you information on the specification of Nokia 2.1, Nokia 5.1 and Nokia 3.1 and the price in India.
Nokia 2.1 specification and price
The new Nokia 2.1 OS came with impressions. Like Nokia 1, Nokia 2.1 is now the Android Go phone. More spaces than previous models will now be able to use the user. Apart from this, considering the large screen demand of the user, the size of the display has been increased by 20 percent. 5.5 inch HD screen and dual stereo speakers. There will be a storage of 1 GB RAM and 8 GB, as will come with Android Oreo (Go Edition). The battery is 4000 mAh, with two claims to keep the phone alive. No changes have been made in the camera department. The phone will be available worldwide from July. Qualcomm Snapdragon 425 processor will be available in Nokia 2.1. This chipset will give 50 percent faster and better performance while switching between apps. For photography, Nokia 8 will have a 5-megapixel front camera for 8-megapixel auto-focus rear and selfie. It can be bought in Blue Copper, Blue-Silver and Gray-Silver option with Polycarbonate Body. Price of Nokia 2.1 for India has been fixed at Rs 6,999.
Main Specifications
Display 5.50 inch
Front Camera 5-Megapixel
Resolution 720×1280
RAM 1 GB
Android OS Android 8.1
Storage 8 GB
Rear Camera 8-Megapixel
Battery Capacity 4000 mAh
Nokia 3.1 specification and price
The new Nokia 3.1 is the most successful smartphone of HMD's line-up. Increased its display to 5.2 inches, which will bring 720+ pixels resolution. After 2 GB / 16 GB variants, now 3 GB / 32GB variants have been launched. The back camera will get 13 megapixels. While the selfie camera will remain at 8 megapixels. Nokia 3.1 will be available from June. It will be available in blue-copper, black-chrome, and white-iron color. Nokia 3.1 has a price of 9,498 (2 GB RAM variants) for India, its global price is 139 Euro (Rs 10,900). The price of 3 GB / 32 GB variant of Nokia 3.1 will be sold for Rs. 11,999. Nokia 3.1 Blue / Copper, Black / Chrome and White / Iron will be available in three color options.
Main Specifications
Display 5.20-inch
Processor Octa-core
Front camera 8-megapixel
Resolution 720×1440 pixels
RAM 2 GB OS Android 8.0
Storage 16 GB
Rear camera 13-megapixel
Battery capacity 2990 mAh
Nokia 5.1 specification and price
In the Nokia 5.1, the user will get a 5.5-inch display and a screen with an 18: 9 aspect ratios. Nokia 5.1 handset will get 2.0 GHz MediaTek Helio P18 Octa-core processor. By improving the hardware, its performance has improved up to 40 percent. A 16-megapixel rear for photography has been given. Fingerprint sensor will be found on the back panel. Nokia 5.1 Copper, Tempered Blue, and Black will be available in three color options. Nokia 5.1 Plus is priced at Rs 14,499. At this price, you will get 3 GB / 32GB variants. Please tell us that the price for Nokia 5.1 (2 GB / 16 GB) of India has been fixed at Rs. 12,499. Nokia 5.1 (3 GB / 32 GB) (Rs. 14,499)
Main specification
Display 5.50 inch
Front camera 8-megapixel
Resolution 1080×2160 pixels
RAM 2 GB
OS Android 8.0
Storage 16 GB
Rear camera 16-megapixel
Battery capacity 3000 mAh