Top 5 Best Video Editing Android Apps In 2018
Hello guys welcome to my blog and I am going to talk about
top 5 best video editing apps for Android in 2018.
1. Quik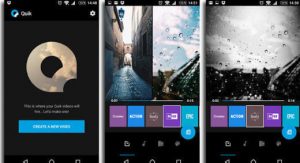 We add this app on top 5 best android app in 2018 because the name of this app implies very simple easy to use and video editing app you start by importing your clips typing and then it combines your lips and photos and sort of slideshow fashion you have lot of themes to choose from and it comes with a lot of music options as well you can use if you want portrait landscape or square video you can add adjust the duration of your clips and audio and there's plenty of filters for you to choose from once you return editing your video you can save it directly to your phone or upload it straight to Instagram stories or in youtube.
We add this app on top 5 best android app in 2018 because Powerdirector is easy to use it you can put clip picture whatever you want directly on the time when there is a bunch of cool things you can adjust in the settings like snapping clips to timeline that can be super useful or annoying depending on what kind of person you are my favourite thing about this app through is that it has a built in audio mixer this is a great if you like me and like to make your background music via Louder Than your voice over it comes with a bunch of stickers so you can remind your audience to like and subscribe you can add your own text filters and weed effects when you are ready to save your project it allow you to save directly to Facebook or YouTube or you can save it straight to your phone or you can pick up your resolution and if you decided to save it in 4K and don't want to pay for it you can just sit there but you can unlock for free so, thats about the power director.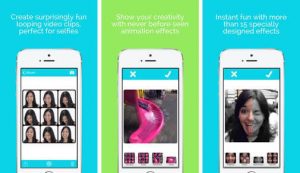 We add this app on top 5 best android app in 2018 because This one's really fun to use you get a handful of different things to edit your video with you can put in custom text stickers adjust the size colour The Premise here is that you can animate everything on your video and the app will record that for you so you can make some really funny crazy videos this app is great if you want an easy way to make something really different so, this is about the funimate video editing app.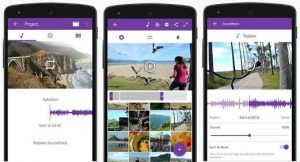 We add this app on top 5 best android app in 2018 because Adobe premiere clip Really useful self intuitative app it's really great for both beginners and people with no experience editing video you can do all the basics like adjusting the speed of your video adding music rearranging your clips adjusting the duration and you can edit your project in freeform modes to get even more customisation you can even adjust the speed of your clip or duplicate it if you want to also gives you a lot of filters to choose from as value really nice custom settings to like having your clips fade out from Black Or adding a custom watermark to your video and if the app just isn't doing it for you you can upload your project directly to premiere.
We add this app on top 5 best android app in 2018 because I feel like this one will feel very familiar to you you can select your media to upload it a few default themes to choose from whether or not you want to add some text and audio it also has its own built in voice recorder so you can do your own voice covers write in the app there there is some fun things to play with like stickers but my favourite too is the PIN tool you can draw yourself a cool hat or make something different the interface for this app is very simple and its really easy to use when you are ready it gives you the freedom to export your video just how you want it and that's it.
Filmora go, Bonus App ( One Of My Favourite App )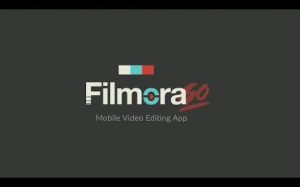 We add this app on top 5 best android app in 2018 because
Best video editing app for android
mobiles with full effects and publishing features today's Android phones are pretty good at recording videos and yet turning your raw footage into something more published is another story with wondershare filmora go editing videos on the fly and publishing them directly to social network such as Facebook YouTube etc. filmora go is a good and best tool that has almost all the editing functionality you need from a PC editing program it only includes all the basic editing features such as trim the video part merging rotating videos adding background music or voice covers 2 videos but also comes with lots of cool special effects such as overlay and filter effects animated text and title effects motion elements except for making it as a simple as possible to turn your photos and videos into something extra with your mobile then let me tell you how this app works right away first launch the app on your phone and then that this create new video icon to enter the interface the hot videos stored in your device and if you want to edit the video now then select the video clip and click next to enter the editing panel review your original video by clicking display button Tab on the thumbnail of the video clip you will get a lot of Editing option for example you can trim videos and some filter effects and overlay effects to add some different elements or atmosphere to your video or give your videos some old time movie look and some fun fashionable motion draw attention to the fine details so as to take your video to a new level of professional and enjoyable entertainment insert animated text and title effects to your video by typing on the text area you will be able to customised the text that will appear in your video make a copy of the short video rotate your video clip or delete it yuri done your editing work you may want to add some background music for your video by music icon on the right sidebar you will be guided to the built in music library of filmora go the music library is a and choosing compilation of artist from the Pacific Northwest with generous ranking from hypstar falls to Electronic pop all these music licence and free to use feel free to choose any video, what's more except for the create a music resources you can add music or audio files as well the plus icon in the lower right corner of the bottom button allows you to import more video or photos for editing at the same time with all of your clips selected you can order them as you should just press long and hold the clip to record it with filmora go it's quite easy how much simpler way to enhance your raw footage painting there are lot of themes like Christmas theme Chaplin theme etc. Guys this is lot about the filmora go because i like this app and using it till now.
Thanks for Reading My Post "
Top 5 Best Video Editing Android Apps In 2018"